Your holidays are a time when memories are created and you can deepen connections with the people who are most important to you. It's wonderful to spend time in a space that reflects the warmth of the holiday, so creating the right atmosphere is important. Even if your day-to-day life has left you no time to prepare, these five super-simple DIY projects can transform your home in a snap.
#1: Candy Cane Centerpiece
Use a fairly large, clear glass vase. Place small, shiny ornaments (or fresh cranberries!) at the bottom, then stand candy canes on top, allowing the crook of the canes to hook over the lip of the vase. Fill the center with white carnations. There are scads of variations on this idea - use what you have on hand and match your own color scheme.
#2: Chair Decorations
Dress up plain dining chairs with this simple project. Choose a sparkly fabric that complements your dining room, and a piece for each chair that is just wider than the chair. The fabric should be long enough to extend from the back of the seat, over the back, and down to the floor behind the chair. Secure the fabric with a sash; tie a large bow, and if you like, add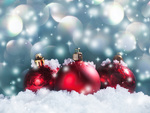 mistletoe or ornaments.
#3: Place Markers
Add a personal touch to your holiday table by creating place markers. If you have a Scrabble game, use those tile and trays to make cool name plates for each place setting. Or make place card holders by hot-gluing 3 mini candy canes to create an easel for bright red name cards. The holders look like little pyramids, with the crook of the candy canes resting on the table.
#4: Berry Nice lighting
Create an attractive centerpiece or mantel decoration using fresh cranberries and simple tea lights. Fill a tray, serving platter or even a baking pan with cranberries, and nestle in several white tea lights. While you're in the fridge, see if there are any artichokes; they make a wonderful base for an elegant candle. Tie a red ribbon around them to complement their beautiful deep green tone.
#5: Fragrant Napkin Rings
Add a touch of greenery to the table with rosemary wreaths. This is a most useful herb, and great for holiday decorating. You can buy your own little plant in the produce section of most grocery stores. Cut a 6-inch sprig of fresh rosemary for each napkin and curl it around to form a miniature wreath. Secure the ends with a tiny bow.
You don't have to string a million lights to create a warm and festive atmosphere for the holidays. Keep it simple and use what you have on hand. Remember to appeal to all of the senses by including savory scents and sparkle. Put on some seasonal music, put a log on the fire, and prepare for some serious celebration.