Are you spending too much time and money making the wrong renovations to your home? If you are like most homeowners, it can be hard to know which projects ultimately add the most value. Fortunately, there is online guidance detailing which improvements show the greatest return on investment.
Before you start tearing down walls and ripping up floors, take a look at this list of 5 renovations that will likely boost your home's value this fall!
#1: Roof Replacement
Of the top five value-adding renovations listed by the cost-value ratio report, roof replacement led the way. Its value rose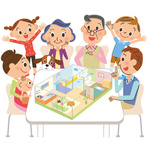 nearly 6% from 2014 to 2015. This renovation falls right in line with all of other improvements that made gains over the last year - fixing the necessities.
#2: Garage Door Replacement
This year it is clear that the trend is toward making repairs and replacements that add value to the overall function and security of the home. Replacing old wood garage doors with new and technologically advanced garage doors improved its return on investment by more than five and a half percent over the year.
#3: Steel Door Entry
Adding a steel door entry made nearly as much of an increase in value as garage door replacements. Up in value by 5.4% over the year, replacing your front door with a more secure 20-gauge steel door is a great renovation for this fall. The more expensive fiberglass replacement entry door was the only high value renovation that made gains.
#4: Siding Replacement
Though it is easy to clean with a good power washer, vinyl siding is often considered of lower quality compared to some of the other materials available today. Instead, stone veneers are taking the place of vinyl siding. This improvement was only second to steel doors in ROI. The cost-value report showed a more than 3% increase in value for replacing vinyl siding.
#5: Wood Window Replacement
Similar to vinyl siding replacement, wood windows are not as durable as some of the sturdier contemporary windows. That is why wood window replacements are high on the report for value adding renovations. These replacements can be made for just a few thousand dollars and will greatly improve your asking price.
Are You Making the Wrong Improvements?
The cost-value report also points out that location plays a large role in return on investment for the more than 100 improvements surveyed. Some parts of the country that see less rainfall and fewer storms saw the greatest returns on outdoor improvements like patios and landscaping.
Other parts of the country saw a much better return for minor kitchen remodels and basement renovations. Depending on where you live, you could be focusing on the wrong things. Local real estate professionals are a great source of information when it comes to what improvements are seeing the biggest excitement from potential buyers. And, as with most things, it's best to do your research before you get started!