You have checked all the windows to make sure they are closed and locked, doubled-checked the doors, let the neighbors know you are out of town, informed the mail so it does not pile up out front, and activated all the passive security systems in your home. However, one area is often overlooked as you pull out of your garage and leave; the garage you just left.
The modern-day garage is a favorite place for thieves to gain access to your home.
There are three main types of garages that your home may have and each one requires its own safety measure. The first two are attached garages, and they can be divided into two categories: 1) the front of the house garage that faces the street and 2) the rear garage, which is out of view from the street.
The third type of garage is the detached garage. It is particularly dangerous if it is not secured properly because it allows a staging ground for thieves to enter the premises.
Here are a few pieces of advice that will help protect your home:
Use Your Garage. Park your car inside the garage when it is not being used or if you are leaving by other means. Many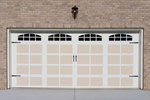 people leave their garage door opener in their car and all it takes is something like a broken window in your car, which can give a thief access to your home. To combat this, you can also make sure to remove the remote if you leave your car outside of the garage.
Disable the Electric Motor. If you are leaving for an extended period of time, detach your electric garage door opener. This is usually a very simple thing to do. Most electric garage door openers have a rope or chain you pull down to disconnect the electric motor from the chain that operates the door. This protects you in two ways. First, if a thief used a frequency scanning device to obtain your code, it will be of no use since it is not operable. Second, it would require a thief to physically go to the door, which the neighbors could see.
Bolt It. Use a manual sliding bolt-style lock on the inside of your garage door that can only be opened from the inside.
Keep It In Good Condition. Make sure the garage door is properly functioning and that there is no damage to the panels which a thief can use to get in.
Keep It Contained.- Do not leave important items in the garage and make sure to lock the door into your home. If thieves do break into the garage, you want to make sure that is all they can access. Place a deadbolt and anti-kick device on the door which leads to the garage from the home on a connected garage.
For the detached garage make sure you follow the same principles as if it was connected to your home. If the garage is out of view it is even more important. Most importantly, do not keep valuables in your garage.