Besides adding curb appeal, a great garden can boost your home's value if it makes your outdoor spaces more appealing. Here are some gardening tips and trendy DIY projects that you can do to attract more buyers to reap a nice return.
Add Native Trees and Plants
According to one economist, you can boost your home's value by more than 25% with good landscaping. Even simple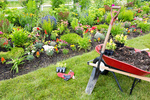 improvements can add up to 7% in value. Especially if everyone else on the block has a well-groomed lawn, if yours is not, it will turn buyers off.
Mature trees are more valuable. The most popular tree is a two feet round poplar tree. Its value increases by $207 per tree in California, $181 in New York, and in MacLean, VA, by $244 according to the tree benefit calculator.
It is important to use native trees that are also healthy. Natural growing trees require little maintenance costing only $3,000 over the span of 20 years as compared to non-natives which can cost up to $20,000 to maintain over the same period of time.
Install a Rain Garden
Installing a rain garden is a good idea if you live in the Northeast and Midwest, areas that get a lot of rainfall each year. A rain garden is built by digging a recessed area for the flower bed so that rainwater runs down into the ground preventing flooding.
Because native plants are adapted to rainy weather conditions, you get the best results using indigenous flowers and plants in your rain garden. Adding a rain garden could even knock a few dollars off of your flood insurance. And the water that comes out is filtered.
Decorate with Lighting
When you plant colorful shrubs and flowers, using accent lights and path lights to highlight them will make a great impression on homebuyers. If you place lighting well, you can emphasize the enjoyment value of your home.
If you have a patio already, you can design your garden to wrap around your patio and walkways to great effect. If you don't already have one, make sure to create at least a small slab of concrete space for sitting and enjoying outdoor spaces then install lighting fixtures and path lights.
Plant Edible Gardens
What better conversation starter and interest sparker than pointing out your food garden out back? Even if it is just a small herb garden, if it is well maintained, it can be a great selling point for your home.
Also, consider planting fruit and nut trees to make your garden completely edible and nature friendly. Learn a few recipes for drinks, garnishes, and salads that can be used with the ingredients in your backyard.
Enhance with Planters
Finally if you don't have a lot of space or you just want to add some accents to your garden, enhance with decorative and colorful planters. They can be made out of concrete, ceramic, or wood. Make sure to clean out leaves and trim them before a showing.