Wallpaper sounds like a relic from our parents' past, but it can still be a very useful tool to dress up a room. Using it on just one wall can reduce the amount of prep, materials and overall work you need to do, and create a focal point for your decorating scheme. It can be used in any room, like the wall in your bedroom where the bed is positioned. Here are some tips you can use when choosing and adding wallpaper in your house.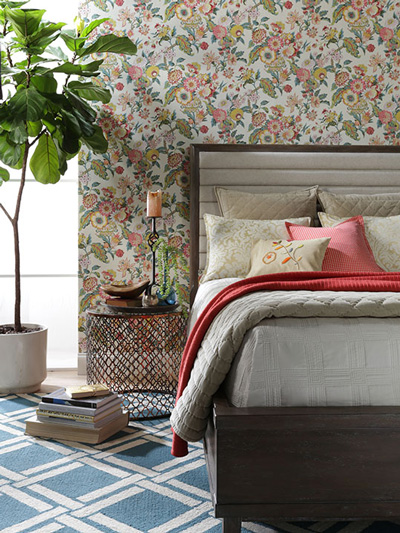 Go high. Is there a room in your house with particularly high ceilings where hanging photos or paintings is impractical? Give this space a makeover by using printed wallpaper on one feature wall to make it stand out.
Go colorful. Do you generally prefer that your walls stay fairly neutral, especially in big spaces? Even the most neutral homes can benefit from a pop of color. Pull colors from your furnishings and accessories and select a wallpaper pattern that accentuates these pieces.
Go whimsical. Mural wallpaper or fanciful designs can be great for a rec room or a child's bedroom. Choose these materials for just one wall so you don't overwhelm the room with too much pattern or scenery.
Go classic. For just an added touch of style, choose a subtle pattern that matches the color of your room and place it on a wall where a featured piece of furniture will be centered. This is great for a master bedroom or a living room.
Do you want to make your home shine with design possibilities? York Wallcoverings has provided the examples in this article of how wallpaper can work.